Legislative Update - January 17, 2019
Posted on 26 January 2019
Dear Neighbors,

I hope all of you were able to spend time with your families and loved ones over the holidays. I'm wishing you the very best in the new year and I'm excited for what it and the 2019-2020 legislative session will bring. It is an honor to continue working with you.

Inauguration of Minnesota's Constitutional Officers
On January 7, I gathered with people from across the state to watch the inauguration of Governor Tim Walz and Lieutenant Governor Peggy Flanagan. Secretary of State Steve Simon, State Auditor Julie Blaha, and Attorney General Keith Ellison also took their oaths of office during the ceremony. I was inspired by the speeches and performances and encourage you to watch the inauguration here.

Session Begins
The next day, I was sworn in. I'm honored to continue being a voice for our community at the Capitol.

Committees are starting to meet this week. I'm looking forward to chairing the Subcommittee on Local Government in addition to serving on Government Operations, Long-Term Care, State Government Finance, and Transportation Finance and Policy.

You can find a full schedule and more information about these committees, including meeting agendas, minutes, and links to audio and video archives here.

Please - Keep in Touch!
If you have any particular issues of interest, questions, or concerns, please let me know. I can be reached via email at rep.sandra.masin@house.mn or phone at 651-296-3533. If you have plans to visit the Capitol, please let me know. My legislative assistant Anna Fineanganofo and I would be happy to arrange a meeting. Feel free to contact Anna at anna.fineanganofo@house.mn or 651-296-4110 as well.

Sincerely,

Sandra Masin
State Representative, House District 51A
 
Legislative Update - December 21, 2018
Posted on 22 December 2018
I hope you are enjoying the holiday season and best wishes for a Happy New Year. My latest update is attached.

Dear Neighbors,

This is a wonderful time of year to spend with family and friends. I am looking forward to seeing mine before the busy legislative session starts on January 8th. Although policymakers are not sworn in for a couple more weeks we are still hard at work. Here are a few items I wanted you to see before the Christmas break.

Lawmakers Listen to Diabetics and their Families Who Struggle With Rising Insulin Costs
Recently diabetics and their families came to the Capitol to share their stories of struggling to afford insulin. The price of insulin has tripled in the last decade, which is unconscionable for a drug that people need to survive. Alec Smith, a 26-year-old from Minnesota, died a month after his 26th birthday when he was no longer eligible to be on his parent's health insurance. He died a month later when he could not afford a $1,300 insulin bill. At best the rising drug prices are the result of an unfortunate series of events; at worst is it drug profiteering. You can read more about the listening session I was at by clicking here. Prices in the United States are much higher than other countries. I am going to continue to fight the dangerously high prices.

Open positions on boards and commissions
Minnesota's Secretary of State has announced open positions on over 200 boards, commissions, councils, work groups, and task forces. See the link below to check on ways you can serve on one of these advisory boards, https://www.sos.state.mn.us/boards-commissions/

Help available for aging or disabled friends/loved ones who are elderly or have disabilities
As we gather with loved ones for the holidays, the MN Dept. of Human Services reminds us that this can be a good time to ask family, friends, elderly, and people with disabilities about struggles with loneliness, daily tasks, and safety. DHS and the MN Board on Aging offer these helpful resources:

Senior LinkAge Line 1-800-333-2433 or http://www.seniorlinkageline.com/
Disability Hub MN 1-866-333-2466 or https://disabilityhubmn.org/


Online shopping safety this holiday season
Many of us shop online all year, but the holidays can be especially busy. As you shop for holiday gifts in the coming days, protect yourself from fraud or identity theft. The MN Dept. of Commerce offers some tips to make your holiday shopping safer.

I hope you enjoy the holiday season; please let me know if I can assist you. It is pleasure to represent our community.

Sincerely,

Sandy Masin
 
Rep. Sandy Masin says "THANK YOU!"
Posted on 10 November 2018
Election Day 2018 concluded with a number of pleasant surprises. I am definitely ecstatic that I will be returning to the Minnesota House of Representatives to represent District 51A. An added bonus is that my caucus will be in the majority, so I am counting on a Legislature that will be more responsive to the issues of people.

I am so grateful to my family, friends, members of my Senate District, and everyone that made this great outcome possible. I am in awe of the time and energy that some people put into the campaigns.

It has been particularly encouraging to see so many new people involved in the political process. We know that the future of Minnesota and the nation is really at stake.

My sincere appreciation to all that participated in the election process.
 
Rep. Sandy Masin Elected for Another Term in the MN House
Posted on 7 November 2018
We are happy to announce that the voters in Minnesota's House District 51A have elected to send Sandy Masin to respresent them at the State Capitol for another term.

THANK YOU EVERYONE who helped in the campaign and voted for Sandy Masin.

Rep. Masin Candidate Statement on Eagan-TV
Posted on 5 October 2018
Eagan-TV recorded the following statement from Rep. Sandra Masin:




 
Rep. Masin is Endorsed by Minnesota AFL-CIO
Posted on 8 July 2018
Rep. Masin released this statement:
I am extremely proud to have received the Minnesota AFL-CIO Committee on Political Education (COPE) endorsement

This organization represents over 300.000 people. The mission of the AFL-CIO is to improve the lives of working families - to bring economic justice to the workplace and social justice to our state and the nation. That mission sounds appropriate for the role of government as well. Given the fact that we have a huge income disparity in this country, we need all the help we can muster to address this inequity and achieve parity and stability.

I deeply appreciate all the work done by the members of the Minnesota AFL-CIO and their confidence in me to represent working families. I believe that the strong middle-class in this country is the reason this country has enjoyed the stability and economic success for so long and I want that success to continue.
We are grateful to the MN AFL-CIO for their strong support. 
Rep. Masin Receives Teamsters Endorsement
Posted on 1 July 2018
Rep. Masin received the endorsement of the Teamsters and issued the following statement in gratitude:
I am extremely proud to have received the endorsement from the Teamsters Joint Council 32 DRIVE. The Teamsters fight for fair wages, decent working conditions, good benefits and dignity in retirement. These goals are so important, particularly when we are dealing with a huge income disparity in our country and attacks on our safety nets at the national and state levels.

My sincere appreciation to the members of Joint Council 32 DRIVE for the work they do to help workers and our communities. I am most grateful for their support and confidence in me.
Meeting with Mr. Khizr Khan
Posted on 28 June 2018
On June 25 Sandy Masin had an opportunity to talk with Mr. Khizr Khan while he was in Minnesota. She posted the following reaction:
... Mr. Khan's words were inspiring, energizing, and moving. He urged us all to take action in support of worthy candidates who will uphold humanist values. It was a pleasure to hear Mr. Khan's speech and an honor to meet this amazing man in person!

Their faces tell their mutual enjoyment in the meeting. 
DFL Senate District 51 Convention Endorses Rep. Sandra Masin!
Posted on 11 March 2018
The DFL Senate District 51 Convention was held on Saturday, March 10.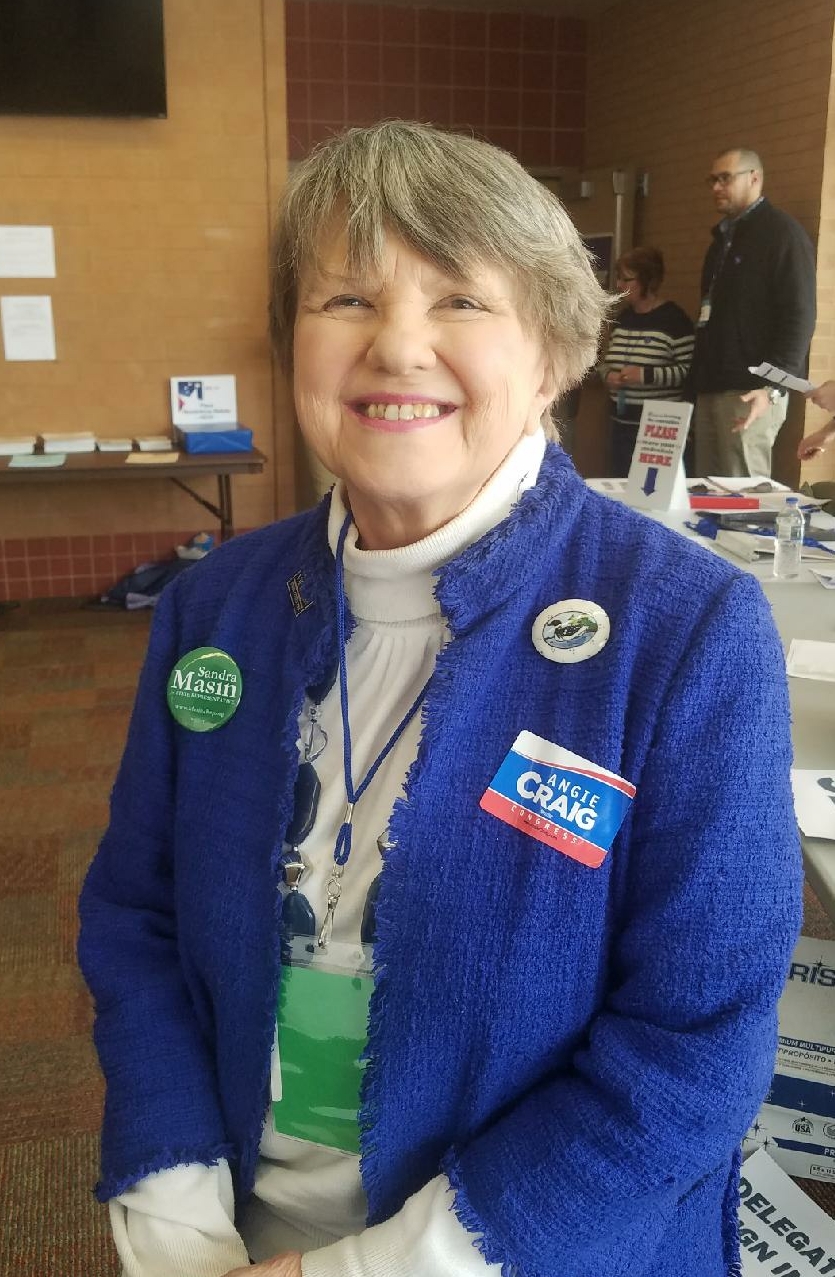 Included in the day's work was electing new party officers, delegates to the upcoming congressional district and state conventions, and voting on resolutions.

I am particularly grateful to be endorsed by the delegates from House District 51A to be their candidate in the 2018 Election. It is an honor to have their confidence and support!

My appreciation to all who participated in this event. This is democracy in action.
 
Rep. Masin Interview on Access to Democracy
Posted on 11 February 2018
Rep. Masin was interviewed on Access to Democracy program. You can watch the program on Eagan-TV Channel 15 as well as by clicking below:



 
EQUAL MEANS EQUAL
Posted on 29 August 2017
A screening of EQUAL MEANS EQUAL was held at the Humphrey School on Saturday evening to observe Women's Equality Day. It illustrated the many injustices that confront women and the importance of passing the Equal Rights Amendment.

It also mentioned that on the international level, only seven countries have not ratified the Convention on the Elimination of All Forms of Discrimination Against Women (CEDAW). Unfortunately, the United States is one of them.

It is time for action. For more information, go to www.equalmeansequal.com