Legislative Update, 25 April 2019: FUNDING EDUCATION
Posted on 25 April 2019
Dear Neighbors,

On Tuesday, my colleagues and I began voting on budget legislation on the House floor. The first budget that we approved was E-12 education.

Parents, students, teachers, staff, and administrators have been telling legislators for years that education funding was inadequate and not keeping up with inflation. Communities were forced to resort to teacher layoffs, larger class sizes, and bond referendums and operating levies that push costs off on local taxpayers. I believe that building a better future for Minnesota requires honest investments in students and schools across the state.

Our E-12 education budget would invest in every student in every public school. It would increase funding by approximately $701 per student in ISD 191, $490 per student in ISD 196, and $591 per student in ISD 197. Per-pupil funding would increase by three percent in the first year and by another two percent in the second. There is also support to help minimize the impact of cross-subsidies, a major issue for school districts. This increase in funding is necessary to give all Minnesota children the great start in life and world-class education that they deserve.

The bill has a host of additional good things to help improve outcomes for our students and our education system. Other measures would support students inside and outside the classroom, improve health and safety, and provide bridges to post-secondary opportunities, including career and technical education.

A fact sheet on the E-12 education budget is available here.

I was proud to vote for this budget because it's essential that we provide the best education possible for our students so that they have the opportunity to reach their full potential and our businesses have a talented workforce that will help them compete in a global economy.

Sincerely,

Sandra Masin
State Representative
 
Protecting Elders Letter-to-the-Editor
Posted on 20 April 2019
I wish you all a Happy Easter and a Happy Passover celebration. Spring seems to have arrived and we are thankful.

The following Letter to the Editor by Rep. Masin to the Sun-ThisWeek Editor was published on April 11, 2019.

The topic of this letter will be an important subject to be dealt with when the Legislative Session resumes on April 23.


To the editor:

It's a matter of life and death. Strong protections for Minnesota's elders and vulnerable adults living in assisted living facilities are urgently needed and long overdue.

The horrific stories are hard to believe. An elderly father's deceased body left in his room for seven days, after the facility promised to check on him daily. A woman with dementia kicked out of three facilities in rapid succession.

People might be shocked to learn that Minnesota is the only state in America that doesn't license assisted living facilities. Equally disturbing is that there are few protections for seniors and vulnerable adults in these facilities. The state didn't create these problems; it's time for the industry to be held to account. The state has significantly improved the investigation process, but additional ombudsman staff are needed to address around 400 reports of maltreatment that the Department of Health still receives each week.

Last session, I was proud to co-sponsor a strong elder protection bill but was deeply disappointed to see that bill bottled up, watered down, and buried in the "Omnibus Prime" monstrosity. This session, I'm again supporting comprehensive legislation that includes licensure for assisted living facilities, prevents elder abuse, curbs deceptive marketing, and stops arbitrary evictions.

I'm confident that the plan will provide greater safety, dignity, and peace of mind for Minnesota's seniors and their loved ones. More than 60,000 of our mothers, fathers, grandmothers, and grandfathers live in assisted living. We cannot fail this year. Yesterday was too late.

Rep. Sandra Masin

DFL-Eagan, District 51A
Legislative Update - March 29, 2019
Posted on 29 March 2019
Dear Neighbors,

Thank you to everyone who was able to make it to our town hall last weekend. There was a great turnout, and we were able to have some good conversations.




Rally for the 2020 Census
Getting an accurate count is incredibly important to MN. There's a possibility of losing one congressional seat. Join us on Monday, April 1 from 11 to 11:30 a.m. on the steps of the Capitol to learn about how we can ensure that every Minnesotan is counted.




Protecting Minnesotans from Sexual Harassment
Last week the House approved legislation to improve Minnesota's sexual harassment statutes (HF 10). For years, the courts have used an unreasonably high "severe or pervasive" standard for determining what behavior constitutes sexual harassment under the law. This bill would lower that threshold, making it easier for those who have been harassed to seek justice.

Making Prescription Drugs More Affordable
Nearly one in four adults struggle to afford the medications they need to stay healthy. That's why I'm supporting a new comprehensive plan to make prescription drugs more affordable. The bills included in this plan would stop price gouging by Big Pharma and put power back in the hands of Minnesotans and their doctors. More information is available here.

Please continue to share your input and ideas as the session continues. It's an honor to serve as your representative.


Sincerely,

Sandra Masin
State Representative
 
Legislative Update - March 19, 2019
Posted on 19 March 2019
Dear Neighbors,

Yesterday the House passed legislation to address the opioid epidemic and distracted driving. I cast my vote for two bills that would save the lives of Minnesotans.

Ending the Opioid Epidemic
Thousands of families have been impacted by the opioid epidemic, and year after year the fatality rate continues to rise. The opioid manufacturers and distributors that created this crisis are collecting record profits while Minnesota communities pay the price. It's time to take action to end the epidemic and hold Big Pharma accountable.

The House approved a comprehensive plan to provide prevention, treatment, and recovery resources (HF 400). Funds for these services will come from fees paid by Big Pharma.

Preventing Distracted Driving Deaths
Distracted driving contributes to one in every five crashes, resulting in an average of 53 deaths and 216 serious injuries each year. Many families who lost loved ones to distracted driving have come to the Capitol to advocate for legislation that would ensure that drivers keep their attention on the road rather than their phones. A proposal to require drivers to use their cell-phones in a hands-free mode (HF 50) passed last night. This law has decreased crashes and fatalities in other states.

Upcoming Town Hall
Please join Senator Jim Carlson, Representative Laurie Halverson, and me for a town hall meeting this Saturday, March 23. We'll provide an update on the progress made at the Capitol, preview what's to come, and hear questions and concerns from constituents.

When: Saturday, March 23 from 12:30 – 2 p.m. Where: Large Meeting Room – Lower Level, Wescott Library, 1340 Wescott Road, Eagan, MN 55123

Please continue to share your feedback with me as the legislative session continues.

Sincerely,

Sandra Masin
State Representative

Legislative Update - March 11, 2019
Posted on 11 March 2019
Dear Neighbors,

The pace at the Capitol is becoming quicker with each passing week. Here are a few things that we've been working on lately.

Equal Rights Amendment
Last week the House passed legislation in favor of the Equal Rights Amendment for Minnesota (HF 13). The ERA would be put on the ballot in 2020, giving Minnesotans the opportunity to vote on including gender equality in our constitution. Everyone deserves equal rights under the law, so I was proud to cast my vote for the proposal.


Minnesota Diabetes Advocacy Day
You may be familiar with the story of Alec Smith, a 26-year-old Minnesotan who died because he couldn't afford insulin to treat his diabetes. As the cost of insulin continues to skyrocket, many Minnesotans struggle to pay for medication they need.
My plan to prevent health care companies from removing coverage of a particular brand of insulin or related equipment and supplies (
HF 288
) is one piece of a comprehensive plan to make sure that people have access to affordable insulin. Insulin users need to have the appropriate medication, and unplanned changes can cause serious problems.
The Commerce Committee heard and passed this legislation on Minnesota Diabetes Advocacy Day. Listen to the hearing
here
for more information on my bill and others like it.
Transportation Field Hearings
The Transportation Finance and Policy Division recently held a series of field hearings that took us to St. Cloud, Minneapolis, Savage, Blaine, and Mankato. On Tuesday evening, community members filled the Council Chamber for the public hearing at Savage City Hall.
While a number of testifiers talked about road improvements, the Dan Patch legislation (
HF 1783
) generated the most animated discussion. This proposal would study extending the existing commuter rail line so residents could board trains in Savage and easily access people and opportunities in other locations. Video of the public hearing is available
here
.
Please contact me if you have any questions or concerns. I can be reached by email at
rep.sandy.masin@house.mn
or by phone 651-296-3533.
Sincerely,
Sandy Masin
State Representative 
Legislative Update - February 22, 2019
Posted on 22 February 2019
Dear neighbors,

Recently I learned more about how other states are funding their transit systems, and the House passed two bills related to transportation.

Transportation Committee
We had several interesting presentations in the Transportation Committee. Two were on funding strategies that have taken place in Georgia. Representative Kevin Tanner, the chair of the Georgia House Transportation Committee, went into detail on the funding of a comprehensive transportation system. HB 170 was of particular importance as it will generate over $900 million in new annual funding. This involves taxes on fuels, truck fees, and a $5 hotel/motel fee. Representative Tanner advised that it is important "to do it together" when working to improve state infrastructure.

John Robert Smith of Transportation for America gave an overview of transportation funding strategies used by other states. He also talked about what he had learned from visiting a number of communities in Minnesota this past fall. For more information, go to www.T4America.org.

Disability Parking Permits
The House unanimously passed a bill that would allow physical therapists to certify applications for disability parking permits. HF 211 would streamline the permit application process, and help people get permits faster. Most people see their physical therapist more frequently than their physician, so this legislation would also help people save money on otherwise unnecessary visits to their doctor.

Bicycle Safety
We also passed HF 462, a proposal that would provide increased safety for bicyclists. The bill modifies rules for bicyclists and drivers and clarifies the powers and duties of bike riders.

Public Hearing in St. Cloud
Today, I am traveling to St. Cloud for a public hearing and a tour of the New Flyer plant. The Transportation Finance and Policy Division is hosting a series of meetings in various communities to give more Minnesotans the chance to be heard. More information is available on the committee webpage.

Help America Vote Act
On Thursday, the House passed House File 14. This is the bill I mentioned in a previous update that will enable the Secretary of State to access federal funds to help with security for election infrastructure. A total of $6.6 million was designated for a grant to Minnesota. Each state was allocated a share of the grant money on the condition that the state provide 5% matching funds.

Please contact me with any questions or concerns you have. It is an honor to serve you.

Sincerely,

Sandra Masin
State Representative
 
Legislative Update - January 17, 2019
Posted on 26 January 2019
Dear Neighbors,

I hope all of you were able to spend time with your families and loved ones over the holidays. I'm wishing you the very best in the new year and I'm excited for what it and the 2019-2020 legislative session will bring. It is an honor to continue working with you.

Inauguration of Minnesota's Constitutional Officers
On January 7, I gathered with people from across the state to watch the inauguration of Governor Tim Walz and Lieutenant Governor Peggy Flanagan. Secretary of State Steve Simon, State Auditor Julie Blaha, and Attorney General Keith Ellison also took their oaths of office during the ceremony. I was inspired by the speeches and performances and encourage you to watch the inauguration here.

Session Begins
The next day, I was sworn in. I'm honored to continue being a voice for our community at the Capitol.

Committees are starting to meet this week. I'm looking forward to chairing the Subcommittee on Local Government in addition to serving on Government Operations, Long-Term Care, State Government Finance, and Transportation Finance and Policy.

You can find a full schedule and more information about these committees, including meeting agendas, minutes, and links to audio and video archives here.

Please - Keep in Touch!
If you have any particular issues of interest, questions, or concerns, please let me know. I can be reached via email at rep.sandra.masin@house.mn or phone at 651-296-3533. If you have plans to visit the Capitol, please let me know. My legislative assistant Anna Fineanganofo and I would be happy to arrange a meeting. Feel free to contact Anna at anna.fineanganofo@house.mn or 651-296-4110 as well.

Sincerely,

Sandra Masin
State Representative, House District 51A
 
Legislative Update - December 21, 2018
Posted on 22 December 2018
I hope you are enjoying the holiday season and best wishes for a Happy New Year. My latest update is attached.

Dear Neighbors,

This is a wonderful time of year to spend with family and friends. I am looking forward to seeing mine before the busy legislative session starts on January 8th. Although policymakers are not sworn in for a couple more weeks we are still hard at work. Here are a few items I wanted you to see before the Christmas break.

Lawmakers Listen to Diabetics and their Families Who Struggle With Rising Insulin Costs
Recently diabetics and their families came to the Capitol to share their stories of struggling to afford insulin. The price of insulin has tripled in the last decade, which is unconscionable for a drug that people need to survive. Alec Smith, a 26-year-old from Minnesota, died a month after his 26th birthday when he was no longer eligible to be on his parent's health insurance. He died a month later when he could not afford a $1,300 insulin bill. At best the rising drug prices are the result of an unfortunate series of events; at worst is it drug profiteering. You can read more about the listening session I was at by clicking here. Prices in the United States are much higher than other countries. I am going to continue to fight the dangerously high prices.

Open positions on boards and commissions
Minnesota's Secretary of State has announced open positions on over 200 boards, commissions, councils, work groups, and task forces. See the link below to check on ways you can serve on one of these advisory boards, https://www.sos.state.mn.us/boards-commissions/

Help available for aging or disabled friends/loved ones who are elderly or have disabilities
As we gather with loved ones for the holidays, the MN Dept. of Human Services reminds us that this can be a good time to ask family, friends, elderly, and people with disabilities about struggles with loneliness, daily tasks, and safety. DHS and the MN Board on Aging offer these helpful resources:

Senior LinkAge Line 1-800-333-2433 or http://www.seniorlinkageline.com/
Disability Hub MN 1-866-333-2466 or https://disabilityhubmn.org/


Online shopping safety this holiday season
Many of us shop online all year, but the holidays can be especially busy. As you shop for holiday gifts in the coming days, protect yourself from fraud or identity theft. The MN Dept. of Commerce offers some tips to make your holiday shopping safer.

I hope you enjoy the holiday season; please let me know if I can assist you. It is pleasure to represent our community.

Sincerely,

Sandy Masin
 
Rep. Sandy Masin says "THANK YOU!"
Posted on 10 November 2018
Election Day 2018 concluded with a number of pleasant surprises. I am definitely ecstatic that I will be returning to the Minnesota House of Representatives to represent District 51A. An added bonus is that my caucus will be in the majority, so I am counting on a Legislature that will be more responsive to the issues of people.

I am so grateful to my family, friends, members of my Senate District, and everyone that made this great outcome possible. I am in awe of the time and energy that some people put into the campaigns.

It has been particularly encouraging to see so many new people involved in the political process. We know that the future of Minnesota and the nation is really at stake.

My sincere appreciation to all that participated in the election process.
 
Rep. Sandy Masin Elected for Another Term in the MN House
Posted on 7 November 2018
We are happy to announce that the voters in Minnesota's House District 51A have elected to send Sandy Masin to respresent them at the State Capitol for another term.

THANK YOU EVERYONE who helped in the campaign and voted for Sandy Masin.

Rep. Masin Candidate Statement on Eagan-TV
Posted on 5 October 2018
Eagan-TV recorded the following statement from Rep. Sandra Masin:




 
Rep. Masin is Endorsed by Minnesota AFL-CIO
Posted on 8 July 2018
Rep. Masin released this statement:
I am extremely proud to have received the Minnesota AFL-CIO Committee on Political Education (COPE) endorsement

This organization represents over 300.000 people. The mission of the AFL-CIO is to improve the lives of working families - to bring economic justice to the workplace and social justice to our state and the nation. That mission sounds appropriate for the role of government as well. Given the fact that we have a huge income disparity in this country, we need all the help we can muster to address this inequity and achieve parity and stability.

I deeply appreciate all the work done by the members of the Minnesota AFL-CIO and their confidence in me to represent working families. I believe that the strong middle-class in this country is the reason this country has enjoyed the stability and economic success for so long and I want that success to continue.
We are grateful to the MN AFL-CIO for their strong support. 
Rep. Masin Receives Teamsters Endorsement
Posted on 1 July 2018
Rep. Masin received the endorsement of the Teamsters and issued the following statement in gratitude:
I am extremely proud to have received the endorsement from the Teamsters Joint Council 32 DRIVE. The Teamsters fight for fair wages, decent working conditions, good benefits and dignity in retirement. These goals are so important, particularly when we are dealing with a huge income disparity in our country and attacks on our safety nets at the national and state levels.

My sincere appreciation to the members of Joint Council 32 DRIVE for the work they do to help workers and our communities. I am most grateful for their support and confidence in me.
Meeting with Mr. Khizr Khan
Posted on 28 June 2018
On June 25 Sandy Masin had an opportunity to talk with Mr. Khizr Khan while he was in Minnesota. She posted the following reaction:
... Mr. Khan's words were inspiring, energizing, and moving. He urged us all to take action in support of worthy candidates who will uphold humanist values. It was a pleasure to hear Mr. Khan's speech and an honor to meet this amazing man in person!

Their faces tell their mutual enjoyment in the meeting. 
DFL Senate District 51 Convention Endorses Rep. Sandra Masin!
Posted on 11 March 2018
The DFL Senate District 51 Convention was held on Saturday, March 10.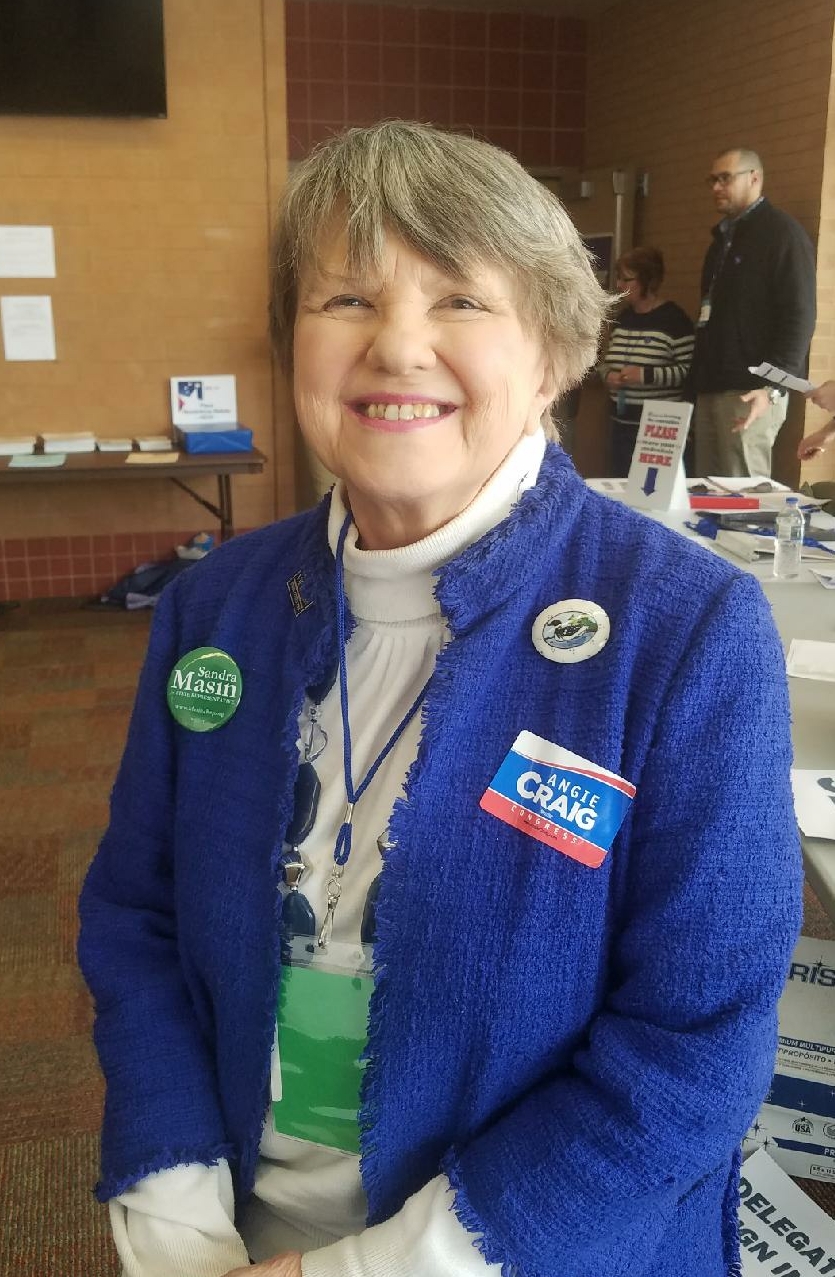 Included in the day's work was electing new party officers, delegates to the upcoming congressional district and state conventions, and voting on resolutions.

I am particularly grateful to be endorsed by the delegates from House District 51A to be their candidate in the 2018 Election. It is an honor to have their confidence and support!

My appreciation to all who participated in this event. This is democracy in action.
 
Rep. Masin Interview on Access to Democracy
Posted on 11 February 2018
Rep. Masin was interviewed on Access to Democracy program. You can watch the program on Eagan-TV Channel 15 as well as by clicking below:



 
EQUAL MEANS EQUAL
Posted on 29 August 2017
A screening of EQUAL MEANS EQUAL was held at the Humphrey School on Saturday evening to observe Women's Equality Day. It illustrated the many injustices that confront women and the importance of passing the Equal Rights Amendment.

It also mentioned that on the international level, only seven countries have not ratified the Convention on the Elimination of All Forms of Discrimination Against Women (CEDAW). Unfortunately, the United States is one of them.

It is time for action. For more information, go to www.equalmeansequal.com