Legislative Update
Posted on 14 June 2018
Dear Neighbors,

After having some time to reflect on the legislative session I've concluded it was one of the most mismanaged legislative sessions ever. Numerous bills that could have easily passed were either not scheduled for a vote or combined with toxic proposals. Republicans in the Legislature (who are in charge) failed to act on the issues most important to Minnesota families, like passing a hands-free driving law to reduce the number of traffic accidents or the simple penny-a-pill fee to help fund treatment and recovery programs for opioid addiction. The majority also failed to pass a two sentence proposal to accept $6.6 million in federal funding to increase our election security. This was just irresponsible.

Over the last few months Governor Dayton warned Republican lawmakers which proposals he would not sign into law, but they ignored him. Governor Dayton lived up to his promise and vetoed the Republican spending bill and a Republican tax bill that gave permanent tax cuts to the wealthy and corporations, but very little to working families.

I know Minnesotans expect us to make Minnesota work better for everyone. We all care deeply about our state and want to see one another succeed. The good news is that I was able to collaborate with my colleagues, Republicans and Democrats alike, to pass important bills for our area.

After three years of work, we agreed on a plan with a variety of modifications to the state's public pension plans in order to ensure their long-term financial stability and avoid putting Minnesota taxpayers at risk. This proposal was signed into law. This was a great bipartisan effort which will help working families now and for years to come. But the House Republican Majority waited until the last 14 minutes of the session to pass this important policy when it was ready to vote on weeks earlier.

I was glad that we were also able to pass several important public works projects for our community. The Minnesota Zoo will receive $6 million for long-overdue repairs, Dakota County's Regional Public Safety Center is receiving $6.2 million in funding that I supported. Our area also will receive some important funding for parks, Fort Snelling's visitor center will receive $15 million for upgrades and the metropolitan regional parks will also receive $10 million. It is clear to me these are the type of results Minnesotans expect and can happen when all lawmakers work together. Collaboration should be a standard way of operating.

I would also like to invite to you a town hall co-hosted by Senator Jim Carlson, Representative Laurie Halverson, and myself on Saturday, June 23 from 11 a.m. - 12:30 p.m. at Rasmussen College in room 201 (3500 Federal Drive, Eagan MN 55122). We will share a quick recap of the end of the legislative session, answer questions, and listen to your concerns and values.

Please let me know if you have any questions.


Sincerely,

Sandra Masin
State Representative

Legislative Update - May 18, 2018
Posted on 18 May 2018
Dear Neighbors,

The 2018 legislative session is drawing to a close and there are a few large items to finish, including major supplemental finance, tax conformity, and bonding bills. Here are the latest updates from the Capitol:

Bonding Bill
Public infrastructure legislation creates jobs and gives Minnesotans the best value for their money when it comes to major construction projects. Unfortunately, the bonding bill brought to the floor by the majority caucus was less than half of Gov. Dayton's proposal, leaving too many projects around our state unfunded and too many jobs left unfilled.

After the Senate bonding bill failed on Wednesday, I hope we will see an improved bill come back to the House floor for a vote.

"Hands Free" Cell Phone Bill
On Wednesday, DFLers renewed the call for debate and a vote on the 'hands free' cell phone bill on the House floor. This bill has earned tremendous bipartisan support and would ban handheld cell phone use while operating a motor vehicle. With numerous co-authors from each party and the support of 80 percent of Minnesotans, this bill deserves to be heard and voted on. Unfortunately, the effort was blocked by Republican leadership in another display of putting politics ahead of Minnesotans' safety.

Transportation Amendment
The Republican majority passed legislation to place a constitutional amendment on the ballot in November, taking money away from our other state services to exclusively fund roads and bridges. We need to do a better job of funding transportation needs, but this amendment creates no new funding which means it has to be taken away from affordable housing, our schools, and other critical services.

This is consistent with Republican votes over the last decade. They want the privilege of being a state representative but want to push the tough votes on getting work done onto their constituents instead of being accountable themselves. Most Minnesotans recognize the need to fund our infrastructure the right way and expect their legislators to get the job done.

Election Security
Secretary of State Steve Simon called on the legislature to release $1.5 million in federal funding for Minnesota's election cybersecurity. The federal law requires the legislature and Gov. Dayton to accept the funds before they can be delivered.

I support setting aside politics and authorizing the state to receive these funds. This is necessary funding to protect our elections and I hope we find a resolution for this issue without delay.

Please continue to reach out with your thoughts and concerns as session winds down.

Sincerely,

Sandra Masin
State Representative
House District 51A Burnsville and Eagan
 
Poetry and Piano
Posted on 13 May 2018
A special note of appreciation to all who participated in our concert fundraiser on Saturday 5/12, POETRY AND PIANO. Thank you for sharing your talents, time and support.
Many thanks to Salam and Dima for providing a marvelous musical experience and to Salam , Vanessa, and Maya for inspirational readings.
It was a lovely afternoon! Listening to the performers one understands why it is so important to have the arts and music in our schools. There is no price on the enrichment they provide to our lives.
Click images for full size
Legislative Update - April 13, 2018
Posted on 17 April 2018
Dear Neighbors,

Now that the Legislature is back from its Easter/Passover break, we'll be tackling several complex issues in the weeks prior to adjournment. Some of them include tax conformity, bonding, and addressing the elder care crisis in our state. Here are some updates from St. Paul:

Tax Conformity
Due to the federal tax bill being passed last year, Minnesota must now decide how much it will conform its state tax code with the federal code.

Full conformity would result in hundreds of millions of dollars in tax increases for Minnesota families in 2018. However, if we do nothing, filing 2018 taxes will become far more complex and costly for filers and the state. I'm committed to making responsible changes that bring more fairness to our tax code instead of sending huge cuts to corporations and the wealthy.

Elder Care
On Monday, Gov. Dayton sent a letter to legislative leaders calling for action on a range of issues, including protecting Minnesota's elderly and vulnerable adults from abuse and neglect. I'll be working to pass legislation that accomplishes these goals and I urge the majority in the House to make our seniors a priority before the end of session.

Regional Parks Funding
I am signing on to HF 3187, which would provide money for regional parks and open-space land improvements. In Dakota County, our Whitetail Woods and Lake Byllesby are both on the list to be positively impacted by this legislation, which would leverage $51 million in investments.

Autism Awareness Day
On April 2, the lights on the Eagan Tower were blue in recognition of Autism Awareness Day. This is a result of the persistence of Emily, a high school student in our district. She even organized a celebration to watch the lights turn on, including blue cupcakes she baked, blueberries, and glow necklaces.

We are so fortunate to have such a talented, involved, and dedicated young woman in our community. Autism impacts so many people and we need to address it on a much larger level than we are doing currently. The earlier it is addressed the better the outcome.


Please feel free to reach out to me with any questions or
concerns.


Sincerely,

Sandra Masin
State Representative
 
Legislative Update: 3-29-2018
Posted on 30 March 2018
Dear Neighbors,

Our second bill deadline is tonight at midnight and the Legislature will be adjourned next week for the Easter/Passover break, so our week has been filled with bill hearings, committee meetings, and constituent visits. Here are some updates from St. Paul:

State Employee Contracts and Pensions
On Monday, the House approved labor contracts for state employees. These were negotiated and agreed upon in 2017, but had their authorization delayed multiple times by the Republican majority. While this is no way to treat the dedicated public servants who provide the services that make Minnesota such a wonderful place to live, I'm pleased that the issue has finally been resolved.

We also have to deal with a pension bill that already passed the Senate and has Gov. Dayton's support. This bipartisan legislation will secure the pensions of 500,000 former state employees and provides a $6 billion reduction in current and future costs by lowering state, school district, county, and city liabilities.

I certainly hope the Republican majority handles this fiscally responsible bill in a timely manner and gets it to the Governor's desk.

Protecting Pre-Kindergarten Funding
Gov. Dayton urged the Legislature to protect pre-Kindergarten programs from being eliminated for 4,000 students across the state on Tuesday. Three school districts in our area have received this funding: between Burnsville Public Schools, the Rosemount-Apple Valley-Eagan Public School District, and the West St. Paul-Mendota Heights-Eagan Public School District, more than $1.8 million in state funding was used to provide pre-K for 312 of our local four-year-olds.

If this funding isn't extended, our schools will lose this money in 2019. I support Gov. Dayton's proposal to make pre-K funding a permanent part of the state budget. Investing in our earliest learners will set them up for success in our schools and communities in the years ahead.

Energy Assistance Still Available
While the Cold Weather Rule that protects Minnesotans from natural gas or electricity shut-off ends April 15, that doesn't mean it's the end of the heating season in Minnesota. To keep the heat on through the chilly weather ahead, low-income residents who need help paying their utility bills can apply for the Energy Assistance Program and establish a payment plan with their utility.

Funds are limited and households are served on a first-come, first-served basis. If you know someone who could benefit, please share this information with them. Details are available on the Commerce Department's Energy Assistance webpage.

Please feel free to reach out to me at the Capitol with your ideas and input.

Sincerely,

Sandra Masin
State Representative
 
DFL Senate District 51 Convention Endorses Rep. Sandra Masin!
Posted on 11 March 2018
The DFL Senate District 51 Convention was held on Saturday, March 10.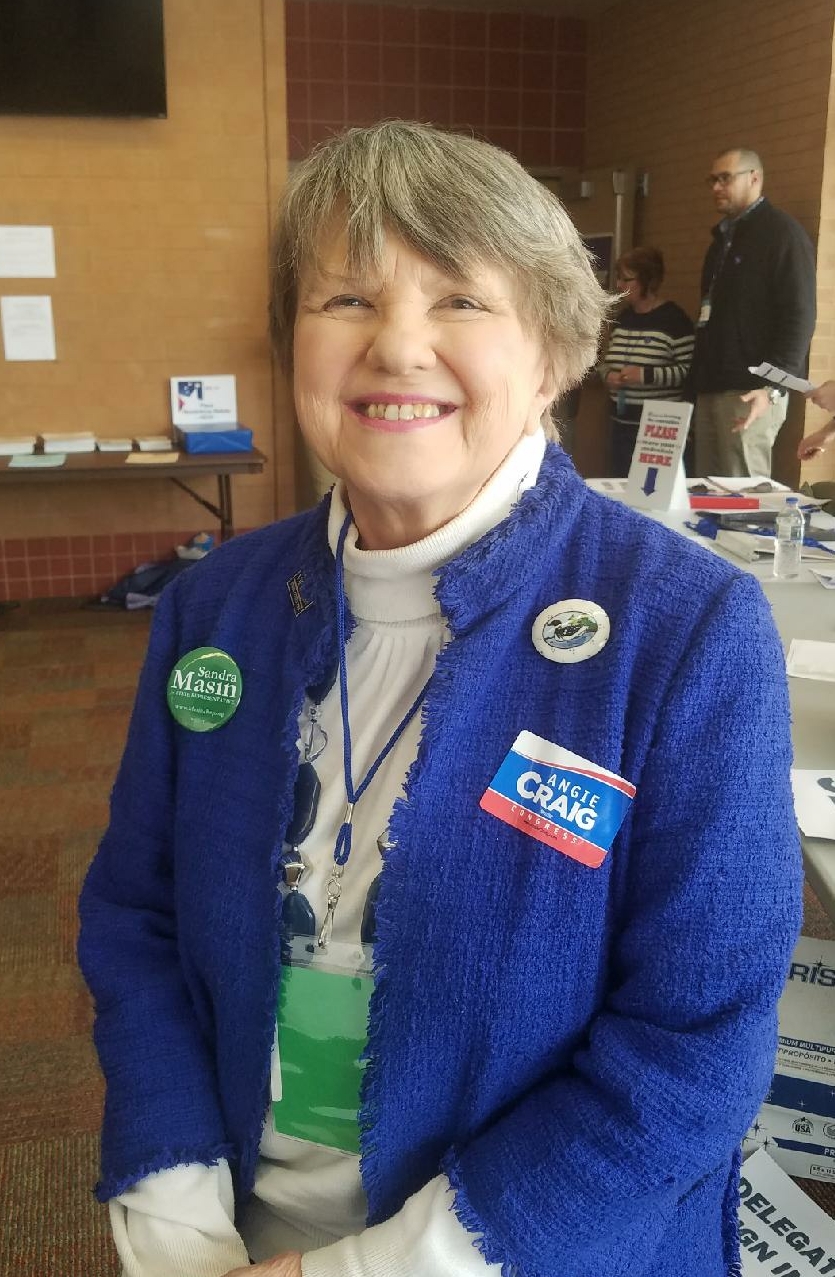 Included in the day's work was electing new party officers, delegates to the upcoming congressional district and state conventions, and voting on resolutions.

I am particularly grateful to be endorsed by the delegates from House District 51A to be their candidate in the 2018 Election. It is an honor to have their confidence and support!

My appreciation to all who participated in this event. This is democracy in action.
 
Rep. Masin Interview on Access to Democracy
Posted on 11 February 2018
Rep. Masin was interviewed on Access to Democracy program. You can watch the program on Eagan-TV Channel 15 as well as by clicking below:



 
January 2018 is National Mentoring Month - Rep. Masin's Mentee Receives a Scholarship
Posted on 5 January 2018
 
Mentor a child
The SunThisWeek reminds us that January is National Mentoring Month. This year's theme is In Real Life. [Area briefs for the week of Jan. 5 website]

Mentors are needed for youths in Dakota County through Kids-'n-Kinship, a local non-profit organization that matches children ages 5 to 16 with volunteer mentors for fun and engaging weekly activities in the community.

There are 63 youths currently matched with mentors, and 21 youths waiting for mentors.

Ongoing training and support for mentors are provided. An information session is scheduled 5:00-6:00pm Tuesday, Jan. 9, at Heritage Library in Lakeville, and 10:00-11:00am Saturday, Feb. 3, at Merchants Bank in Apple Valley. For more information, go to www.kidsnkinship.org or call 952-892-6368.

Masin Mentee Awarded Scholarship
State Rep. Sandra Masin, DFL-Eagan and Burnsville, and the National Foundation for Women Legislators awarded Margaret Kleiman of Hutchinson with a $3,000 college scholarship at the 2017 NFWL Annual Conference in Minneapolis. [see MN House press release]

Kleiman was selected as one of six national winners of the 20th Annual Bill of Rights Essay Scholarship Contest.

Masin served as Kleiman's mentoring legislator and presented the award to her at a special lunch on Friday, Nov. 17, during the Annual Conference. Kleiman is a senior at Hutchinson High School.
Applicants were given four prompt options, all of which examined timely current events. The essay topics asked students to further analyze the role of women in American politics. A selection committee judged each essay based upon the student's understanding of the U.S. Constitution, historical research, insight, perspective, inspirational quality and meaningful personal connection.
Veterans Day Celebration
Posted on 11 November 2017
Rep. Sandy Masin posted this entry on her personal blog site in honor of Veterans and their contribution to our country:
The State of Minnesota held its Veterans Day Celebration at the Inver Grove Heights Veterans Memorial Community Center today. It is always an impressive event. For one, the 34th Infantry Division Red Bull Band provides the music. Secondly, it is well attended and there is lots of interesting conversation. Third, the speeches help illustrate the importance of observing Veterans Day.

The Keynote speakers were Douglas Bradley and Craig Werner, the authors of  "We gotta get out of this place - the soundtrack of the Vietnam War." They talked about how important music was to the troops during that time. It was easier to have veterans tell their stories if they first talked about the music that was important to them while they were in Vietnam.

The highlight is always when the Red Bull Band plays the songs for each branch of the military and the people stand when the music for their branch is played.

U.S. Senators Klobuchar and Franken were in attendance as were U.S. Representatives Tim Walz, Tom Emmer, and Jason Lewis. They did a very good job of emphasizing the importance of our military and paid tribute to them.

Truly a special way to observe Veterans Day.
Water Quality, Organics Recycling - Legislative Update
Posted on 7 October 2017
Dear Neighbors,

As we get into the swing of fall, many of us are raking leaves, cleaning up our yards, and enjoying the last weeks of warm weather before winter arrives. With the environment and great outdoors in mind, I am sharing an update on the Governor's Water Quality town hall which will be tomorrow in Burnsville, and info on a new organics recycling drop-off that Dakota County recently announced.

WATER QUALITY MEETINGS
Governor Mark Dayton is hosting a series of Water Quality Town Hall meetings this summer and fall. The Town Hall meeting will offer an opportunity to discuss the water quality challenges facing our community and our state, learn from experts, and engage with policymakers. The Town Hall meetings build on the momentum from Governor Dayton's "25 by 25" Water Quality goal proposal, announced earlier this year.

The Town Hall meetings will be attended by key members of Governor Dayton's Cabinet who want to hear from Minnesotans about ways to improve the state's water quality at the local level.

These Town Hall meetings are free to attend and open to the public. The meeting will run from 6:30-8:30pm with registration beginning at 5:30pm. No advance registration is necessary. A complete list of dates and locations is available online.

Burnsville Water Quality Town Hall meeting took place on October 4, 2017.

PROJECTS FOR CLEAN WATER
In late September, Dakota County Soil and Water Conservation District showed us some of the projects that have been done in the county to help with water quality. One was streambank stabilization on a stream very near the Fairgrounds. As it happens, this stream does have good-sized trout in it.

We also visited a homeowner who has put in a raingarden in her front yard as well as some other conservation projects in the back yard that is on a lake. It is great to see individuals taking responsibility to improve water quality. We looked at a church that put a raingarden on the front of its property to help with water quality.

The Minnesota Zoo has a number of projects on its property to mitigate storm water runoff.

It is exciting to see so many projects that will help us in our quest for good water quality. Clean water is essential for life!

Our last stop was at the prairie restoration area on the Fairgrounds where the annual Outdoor Education Days for 5th graders was taking place. There are sites set up where the students can learn about water quality, native plants, and so on. Adults learn a lot, too.

DAKOTA COUNTY ORGANICS RECYCLING
There is now an additional organics recycling drop off site starting November 3rd in Lebanon Hills at the Holland Lake Trailhead (1100 Cliff Road, Eagan). This is a great way to reduce how much trash your household sends to landfills and can help save money if it helps you qualify for a cheaper trash hauling service.

This is a great opportunity for anyone who is interested in organics recycling. To sign up call 952-891-7557 or email organics@co.dakota.mn.us.

For anyone who is unfamiliar, about 1/3 of what is thrown away in landfills is organic and can be recycled into compost which is a nutrient-rich soil additive. Dakota County's organics recycling program uses a commercial facility which allows people to recycle meat, dairy, fruit, and vegetables. Here is a list of some of the accepted and not accepted items.

ACCEPTED
All food, food scraps, peels, pits, etc.

Coffee grounds, filters and teabags

Paper towels, napkins and tissues

Paper towel and toilet paper rolls

Paper egg cartons

Certified compostable products: Items with the BPI or Cedar Grove certified compostable logo on the product or packaging

Hair and fur

Popsicle sticks and toothpicks

Houseplant trimmings and flowers
NOT ACCEPTED
Yard waste

Plastic bags

Pet waste, litter, or bedding

Fast food wrappers

Frozen food boxes

Microwave popcorn bags

Paper plates, bowls and cups without BPI or Cedar Grove certification

Single-serve coffee pods (example K-Cups)
Dakota County is also hosting free training sessions for anyone who wants more details before signing up. Here are the times and locations of the training sessions which are about 45 minutes long:
Tuesday, Oct. 10, 7 p.m., Discovery Room at Lebanon Hills Visitor Center, 860 Cliff Road, Eagan

Saturday, Oct. 21, 11 a.m., Wescott Library, 1340 Wescott Road, Eagan

Saturday, Oct. 28, 1:30 p.m., Wescott Library, 1340 Wescott Road, Eagan
If you would like to attend the training session you need to reserve a spot by
clicking here
.
If you have any questions contact the Dakota County by call 952-891-7557 or email
organics@co.dakota.mn.us
.
Please contact me if you have any questions or concerns.
Sincerely,
Sandra Masin
State Representative 
EQUAL MEANS EQUAL
Posted on 29 August 2017
A screening of EQUAL MEANS EQUAL was held at the Humphrey School on Saturday evening to observe Women's Equality Day. It illustrated the many injustices that confront women and the importance of passing the Equal Rights Amendment.

It also mentioned that on the international level, only seven countries have not ratified the Convention on the Elimination of All Forms of Discrimination Against Women (CEDAW). Unfortunately, the United States is one of them.

It is time for action. For more information, go to www.equalmeansequal.com

Reopening of State Capitol - all weekend
Posted on 12 August 2017
Don't forget there's an entire weekend's worth of fun:

Capitol Restoration Celebrations this Summer!

After four years of repairs and restorations, our State Capitol is now fully open to the public once again! This beautiful building has been returned to its former glory, and there will be events this August to celebrate this beautiful edifice of our democracy. You and your family are encouraged to attend any of the fun events that are planned.

It is the People's House - remember that!

On Friday morning we had the ribbon cutting ceremony and a color guard presentation as we reopened the State Capitol.

Most of the events are free, or offered at very low cost. You can learn more by visiting
www.mn.gov/mymncapitol
WHEN: Friday, Saturday & Sunday Aug 11-13
WHERE: Minnesota State Capitol Grounds
     75 Rev Dr Martin Luther King Jr Blvd
     Saint Paul, MN 55155
Learn more about tours, live music, children's events, and fireworks by
www.mn.gov/mymncapitol
Please contact me if you have any questions or concerns.
Sincerely,
Sandra Masin
State Representative 
Legislative Update June 30, 2017
Posted on 10 July 2017
Dear Neighbors,

I hope everyone is making plans for a safe and enjoyable holiday weekend to celebrate our independence and freedom!

Happy 4th of July! See you at Funfest!
[Clearly, this was sent out before the 4th of July weekend! -webmaster-]

Our community has one of the best Fourth of July celebrations in the state, and I hope to see you at Eagan Funfest! This is a time to celebrate our democracy and the sacrifices of those who fought for the country we have today. I'll be seeing many of you in the parade and other festivities. You can make plans by checking Funfest details here: http://eaganfunfest.org/

Upcoming Hwy 13 Construction will include Overnight, Weekend Single-Lane Closures
It's road construction season! Beginning in July, the Minnesota Department of Transportation (MnDOT) will be resurfacing both directions of Highway 13 in Burnsville from west of County Road 5 to Highway 101 in Savage.

The project is expected to begin the week of July 10, and will result in overnight and weekend single-lane closures in both directions.

Single-lane closures in both directions are expected from 7 p.m. – 7 a.m. on weekdays, July 10 – Aug. 14; AND from 7 p.m. on Friday to 5 a.m. on Monday the following weekends:
July 14-17
July 21-24
Aug. 4-7
Aug. 11-14
Additional information on this project is available online at
www.mndot.gov/metro/projects/hwy13
.
The New St. Croix Crossing
On Monday afternoon, I had the opportunity to tour the new bridge over the St. Croix. It is an impressive structure that is designed to last 100 years. It is about a mile long, about a hundred feet wide, and slightly over 100 feet over the water. The bridge connects Oak Park Heights, Minnesota with St. Joseph, Wisconsin.
The bridge should open later this summer. For more information, see the
MN DoT website
.
The Stillwater Lift Bridge will be converted to bicycle/pedestrian use only. 
Other legislators and staff joined me to see the new structure
Legislature Suing Governor Dayton
In a previous update I was optimistic that issues between Republican leaders of the Legislature and Governor Dayton would get resolved before they got to court. Regrettably, such was not the case. The case against Governor Dayton, brought on by the Republican House and Senate had its first hearing on Monday. Both the Governor and the Legislature agreed to continue the ongoing funding of the Legislature through October 1st, and the judge agreed to this while the case goes forward. You can read about the case in this
Pioneer Press article
.
New Laws on July 1
July 1 is the state of the new Fiscal Year and with it we see many new laws coming into effect. You can read a short select list of new laws in each budget area from nonpartisan
House Public Information
.
Summer Activities for Kids
Don't forget the YMCA is offering free summer access for area teens. Here's a
great story
from the Star Tribune on that.
I hope you all have a safe holiday weekend with friends and family. Please contact me if you have any questions or concerns.
Sincerely,
Sandra Masin
State Representative 
July 4th Parade in Eagan - Pictures
Posted on 8 July 2017
The July 4th Parade in Eagan was quite nice. Weather was very cooperative and the audience was lively and responsive, encouraging marchers. Jim again brought out his fantastic human powered vehicle! Our team was great! Here are a few pictures.

Click the tumbnails for larger size image
Rep. Masin's Letter to the Editor 6/22/2017
Posted on 22 June 2017
Our local newspaper, the Sun ThisWeek, published Rep. Masin's Letter to the Editor on 6/22/2017 [see online]. ​

​​Let's return to good governance
Published June 22, 2017 at 9:39 am
By ​Rep. Sandra Masin
To the editor:
The 2017 legislative session reached new – though not surprising – lows. Politics has always involved conflict; in a two-party system, how could it not? Usually that conflict is tempered by bipartisan agreement and collaboration. In a perfect world, political conflict manifests itself in compromise and meaningful results, but such was not the case this year when it came to Minnesotans' personal internet data.
This year, internet privacy was just one example of vital public policy falling under the rampaging boots of partisanship. The brazenly partisan move by Republican legislative leaders to weaken our online privacy is shows how politics comes before principle for some at the Legislature.
A data privacy act passed nearly unanimously by both the House and the Senate, which are both controlled by Republicans. Yet that provision was stripped from its omnibus bill in conference committee. This isn't politics as usual. This is an example of hundreds of legislators' votes – each one a representation of thousands of Minnesotans' voices – being casually discarded for the sake of a larger game.
And what a game it is. Those conference committees, run by Republicans, did not seek nor did they respond to public comment. Those conference committees operated under the finger of Republican leadership – Speaker of the House Kurt Daudt.
Poison pills in almost every budget bill put short-term political points ahead of Minnesota's long-term health and stability. Daudt has spent two sessions toying with state employees. The 1,300 Department of Revenue jobs he held hostage this year were just the latest in a string of decisions made to threaten our institutions for political gain.
The willingness to threaten state jobs, as well as the programs and services they provide, makes it difficult to have any regard for a leader who displays so little respect for the vital institutions and people of our state. The Republican crusade to strip local control from communities and place it in the hands of the Legislature and big business is more fitting for lobbyists than public servants.
The line between arrogance and ignorance is thin – for some, there is no line at all.
Rep. Sandra Masin
DFL-Eagan 
Legislative Update - May 26, 2017
Posted on 26 May 2017
Dear Neighbors,

We adjourned the special session just before 3 a.m. this morning, having passed all the finance bills and sending them to the Governor's desk.

There were significant issues with these finance bills, like Republicans choosing not to fund wage increases for home health care workers (an industry in crisis due to low pay and long hours). Republicans, in an unethical and cruel move, also pitted sick time benefits of workers in Minneapolis/St. Paul against union contract ratification, forcing legislators to pick which group of workers they want to support.

The Governor has said he will veto that bill.

While the finance bills contained objectionable provisions, there was broad support for the last bill we took up in the special session.

Our final piece of business was to pass a $1 billion bonding bill. After not passing one last session, there was pressure to get it done so infrastructure projects around the state could continue. While the original bill was far too small to get the necessary support to pass, I was pleased to cast my vote for this version. It includes bonding funds for the Orange Line, Mall of America Transit Station, and Dakota County's top priority, the Lake Byllesby Dam.

This was a difficult session, which stemmed from the Republican majority's unwillingness to collaborate. All the bills are in Gov. Dayton's hands now. He has three days to sign bills presented to him before the end of regular session and 14 days to sign bills we passed in special session.

If you have any questions or concerns, please feel free to contact me.

Sincerely,

Sandra Masin
State Representative

May 11, 2017 Legislative Update: DFL Women meeting
Posted on 13 May 2017
Dear Neighbors,

I attended a meeting and press conference with Gov. Dayton, Lt. Gov. Tina Smith, and my fellow DFL women lawmakers on Thursday 5/11/2017. We discussed a range of issues, including women's economic security, clean campaigns, and the preemption legislation that would heavily impact women in our state.
DFL Women Legislators in Press Conference with Govenor Mark Dayton protesting the elimination of the Office on the Economic Status of Women in Minnesota
One of the cuts made in the Republican budget is the elimination of the
Office on the Economic Status of Women (OESW)
. Rep. Rena Moran spoke about the importance of that office in advising lawmakers and
providing information and statistics on women in Minnesota. This is valuable information that legislators must be able to consider when building policy in our state. You can view the press conference by clicking
HERE
.
Economies perform better as more women join the workforce and obtain economic security; we need to make that a central goal along with bringing more women into elected positions.
To that end, I encourage everyone - and especially women - to consider running for school board, city council, and other elected positions. Having representation that more closely reflects our population is an important step in bringing more women into the economy.
If you have any questions or concerns, please feel free to contact me at the Capitol.
Sincerely,
Sandra Masin
State Representative